Represented in North + South America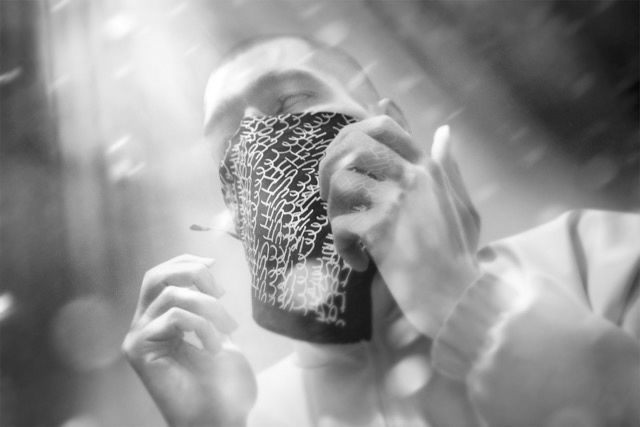 Endgame is a producer and DJ based in London.

His densely layered sound emerges from the cold ashes of grime. Combining corrosive melodies and artillery like percussion, with reference to dancehall, tarraxo, and drill, but skewed an contorted into a genre in an of its own.
He released his ground breaking debut EP 'Endgame' on Portuguese label Golden Mist (2015), followed by the breathtaking 'Savage' on New York's Purple Tape Pedigree (2016). In July 2016, Endgame joined the Hyperdub family, releasing his latest EP 'Flesh', a fierce statement of intent that pulls apart club music's component parts and propells them into a new era.
As founding member of Bala Club with Uli-k, and Kamixlo, and as the host of Precious Metals, a bi-weekly show on NTS for the last 5 years, Endgame has focused on acceleration and experimentation. Helping define a new sound for London, that resists categorisation, and reflects the global exchange of sounds, rhythms and styles.



JUST JAM 122 ENDGAME by justjamlondon

Precious Metals w/ Endgame – 15th July 2015 by Nts Radio on Mixcloud
RELEASES:
2016 – Flesh [Hyperdub]
2016 – Savage Remix EP [PTP]
2016 – Savage EP [PTP]
2015 – Destiny Riddim [Staycore]
2015 – Dinamarca – Zorna (Endgame Remix) [Staycore]
2015 – Iced Out / Empyrean (w/ Lit Internet) [Self Released]
2015 – Endgame EP [Golden Mist]
PERFORMED ALONGSIDE:
Mykki Blanco, Total Freedom, Elysia Crampton, Murlo, Mr Mitch, Soda Planes, Rabit, Lexxi, Kamixlo, Blaze Kidd, Uli-K, Palmistry, Ana Caprix, Yung Sherman, Bladee, Shanti, Why Be, Chino Amobi, Neana, Nkisi
PRESS:
Boomkat Picks "Flesh" + "Savage" Inside Top 100 EPs of 2016
Mixmag's #10 Breakthrough DJ Of 2016
Mixmag Premieres Fellony Riddim/Fallen Video
Fact Mag Previews "Flesh" EP On Hyperdub
Mixmag Previews "Flesh" EP
Resident Advisor Previews "Flesh" EP
Insert Previews "Flesh" EP
Bala Club Feature in Mixmag
Thump Premieres WWWINGS – "Pray" ft. Endgame
Thump Premieres "Savage Riddim" Off Forthcoming EP
The FADER Mix Fall 2015 w/ Interview
The FADER Club Music Feature
The FADER: Why Today's Club Music Sounds Cybernetic
The FADER Debuts Sniper Redux Video
Endgame On London's Most Vital Venues For The FADER
Dummy Mag Debuts Luxury Riddim EP
Dazed: Why UK Nightlife Will Never Die
Sniper Riddim Featured In Dazed February Playlist
Mixmag Debuts Alloy Riddim
Luxury Riddim Featured In Fact Mag For Club Use Only
Mixpak Mix Featured In Fact Mag
Generation Bass Essential EPs #3