Represented in North + South America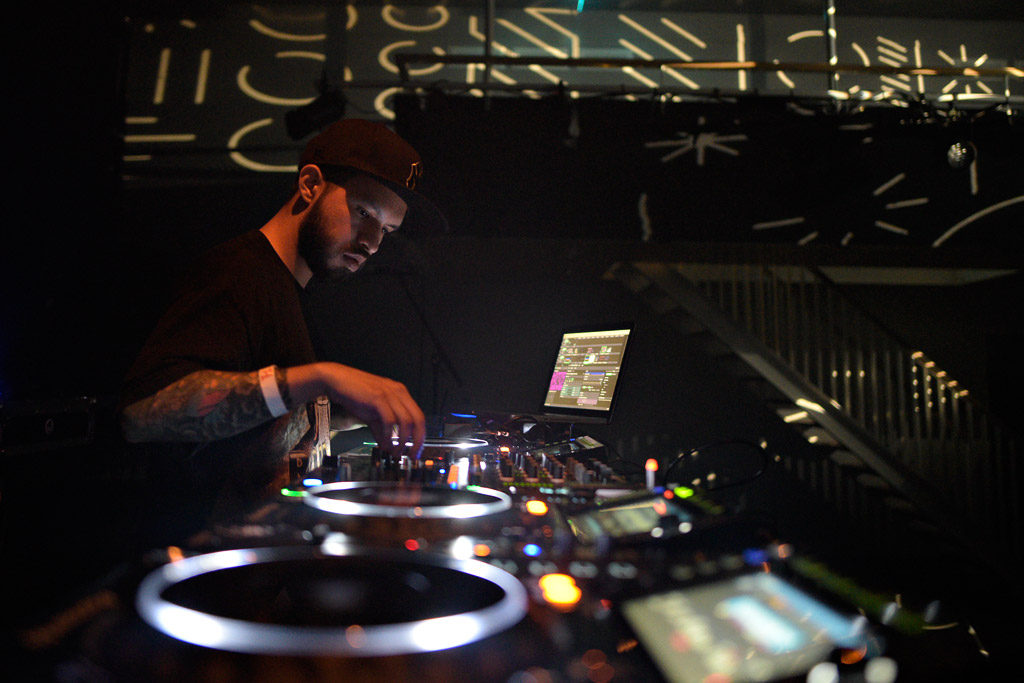 False Witness is an audio visual identity designed by artist Marco Gomez, an original founding member of the American artist collective, KUNQ. False Witness is an open format project that incorporates elements of DJing, video sculpture and sound installation. Soundscape designs and music found within individual performances revolve around themes that speak to the urban experience, particularly in states of trauma or heightened states of consciousness.
False Witness has performed and debuted work internationally at such institutions as MoMA PS1, the 2013 Venice Biennale, and the Frieze Art Fair in London. He has collaborated with various artists like Venus X, The House of LaDosha, and Juliana Huxtable, along with those from the KUNQ collective such as Rizzla (Fade to Mind), D'hana Perry, and Yulan Grant. False Witness has been featured and mentioned in such media outlets as Spin Magazine, Resident Advisor, Red Bull Music Academy, Interview Magazine, and Fact Magazine, among others.
RELEASES:
2014 – Makina EP [Lit City Trax]
2014 – Balazo EP [Bastard Brigade]
PRESS:
2016
Paper Magazine
KUNQ Feature For Resident Advisor
RBMA Feature Interview
2015
THUMP Leaks FW Hulkshare Dubs
THUMP Announces Sound Installation "Puertos/Cerrados"
Thump Colombia – Riobamba Y False Witness Se Unen Para El Track "Bin Danza"
Thump Brazil – Oua O Dembow Furioso Do False Witness No Remix De "Bololo Haha"
Complex – Premiere: Ducky and False Witness' No Love For The Boys
Mixmag – Venus X Gives Away Tracks as Part of GHE20G0TH1K Project
Fact Magazine – Download False Witness' 100% Pure Love Remix for GHE20G0TH1K
Remezcla – False Witness Gives Club Classic some Latin Vibes
Fact TV at SXSW 2015 – Interview
The Fader – Mashups Are Back & This Time It's Serious
Fact Magazine – February 2014: Dance Tracks
2014
Fact Magazine – Best Tracks of 2014
Remezcla: Breakout Artists of 2014
Hypetrak – False Witness – Makina (Rizzla Remix)
Fact Magazine – False Witness Shares Makina EP via Lit City Trax
Interview Magazine – Soundclouds of the Underground: Fourth of July Edition
Remezcla – Listen to False Witness' Island Industrial on the Makina EP
Spin Magazine – 5 Artists to Watch: November 2014
i-D Magazine – Pics or It Won't Happen: An Overview of Performance Art at Frieze 2014
2013
DIS Magazine – Premiere: Rizzla & False Witness Isla Toxico EP
Fact Magazine – Rizzla & False Witness Share Amped Up 'Isla Toxico' EP
2012
DIS Magazine – Realidad Bodega
PERSONAL WRITING
Remezcla – Pico Picante: Four Years of Politics On The Dancefloor
Mask Magazine: We May Not Sleep