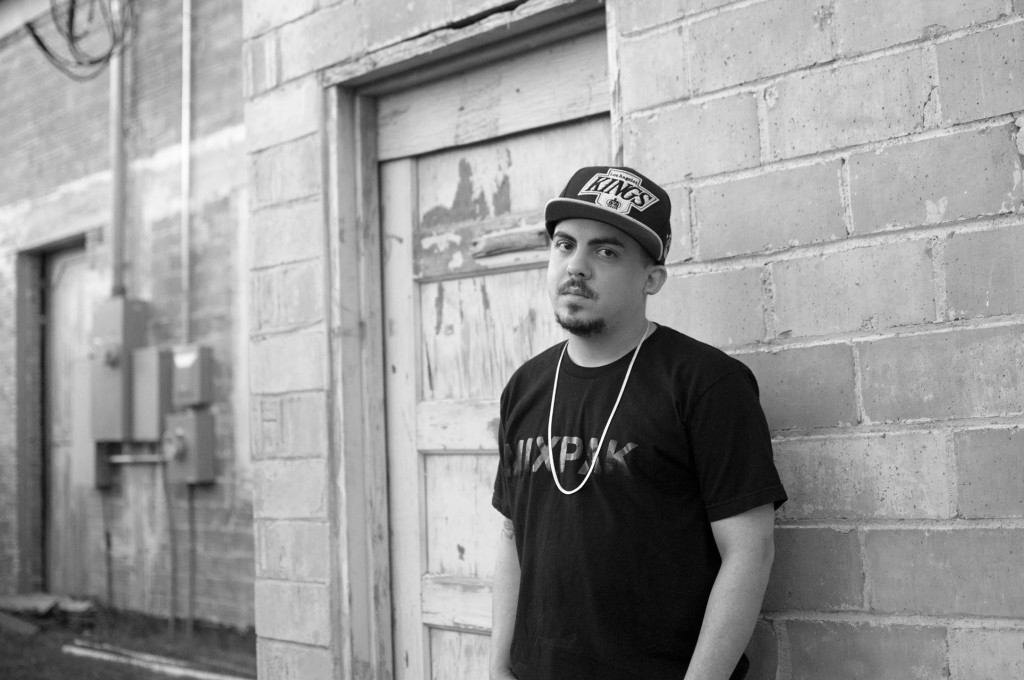 Steeped in millennial culture and bred on East Coast club sounds, Austin-based DJ/producer Mike G draws lines between the Internet, insular regional scenes and the ears of young listeners. It would be impossible to place Mike, born in Los Angeles, in any particular genre or sub-genre, his music instead evoking everything you'd want from the "bass" music genre without any of its pedantic proclivities.
You know him via releases on Car Crash Set, Main Course, Paradisiaca, Freshmore, and Soukouch Ethnik, just to name a few. However, Mike's remixes, bootlegs and one-offs might just have garnered him even more attention. Maybe you heard his "Code Switch"/Divoli Severe edit on the Night Slugs Boiler Room or saw his SPF666 – "Scorpion Cache" remix burning up the web. It might have been his collaboration with Falcons that caught your eye, released with support from the wide-gazing Mad Decent, along with multiple plays on BBC Radio 1. A well sought collaborator, Mike has also gained recognition for his collaborations with the late DJ Rashad, SPF666, Krueger, and Black Majick. Gathering up breakbeats, horn stabs and volatile ballroom samples from across the avant-garde of yore, Mike has developed a sound in both his DJing and production that is always accessible, but never pandering. It's as implacable as it is fun, fully existing in the prosperous nether-region of the Internet, without crossing over into self-indulgent fapping.
In a short few years Mike's original productions, remixes, and bootlegs have been supported in live sets and on radio from the likes of Bok Bok, Brenmar, DJ Rashad, DJ Spinn Toddla T, B Traits, Dubbel Dutch, Total Freedom, Girl Unit, Diplo, Rabit, MikeQ, Neana, Druid Cloak, Slick Shoota and many more. He is also one half of a collaborative effort with Broadway Slim's Riot Earp and has been the host of a weekly radio show on RWDFM for almost 3 years but is now currently hosting his show on SUBFM, every other Wednesday 7-9PM E / 4-6PM P / 12-2AM GMT.
RELEASES:
2012
Throwback/Disco Radio [Car Crash Set]
Admin – Round in Circles (Mike G Remix) [Hot N' Heavy]
NSFW EP [Bandcamp]
Boost EP [Car Crash Set]
If You Love EP [Bandcamp]
The Shore EP [Inna Riddim]
Mak and Pasteman – Jungle Juice (Mike G Remix) [Hot N' Heavy]
Martin Sauvage – Human Race (Mike G Remix) [Soukouch Ethnik]
Dessert First (From 'Summer Crisis' V/A) [B.YRSLF DIVISION]
DJ Hoodcore – Phyre (Mike G Remix) [Paradisiaca Recordings]
Dehousy – Fk Dat [Conquistadores}
Daddy (From 'Special Characters' V/A) [Soukouch Ethnik]
Strict Face – Vanilla Pattern (Mike G Remix) [Bass Machine]
2013
Club Watch EP [Soukouch Ethnik]
Mike G & Nikes – Edits EP [Freshmore]
Falcons – Oh! (Ciara) feat Mike G [Self Released]
Sprung Broke (From 'Mad13' V/A) [Mad Hop Records]
Snakeskin Broth (From 'Track Meet 02' V/A) [Track Meet]
Leukthug's Mansion (From 'Raw AAA' V/A) [Raw Records]
Mack Blajik & Mike G – Pop Dat High Note [Self Released]
Koloah – XXX (Mike G Remix) [Car Crash Set]
Velcro – Goldfish (Mike G Remix) [Hot N' Heavy]
Laney – Diamonds (Mike G Remix) [Freshmore]
Blvck Lite – Neighbors Gon' Hear Us (Mike G Remix) [Sublimated Sounds]
Rite Clique (aka Mike G & Riot Earp) – Now We Up [Track Meet]
Pigeonfox – Nibiru (Mike G Remix) [Ice Rink]
Chillax & Goldhammer – Escalade (Mike G Remix) [La Fille De L'Air Records]
Rooster Cogburn – Black (Mike G Remix) [Filthy Fortune Records]
Nah Like – My Gun (Rite Clique Remix) [Freshmore]
BSN Posse – Feeling (Mike G Remix) [Car Crash Set]
2014
Mike G & Krueger – Magnetic Spirit [Paradisiaca Recordings]
SPF666 & Mike G – Warworld [Main Course]
SPF666 – Scorpion Cache (Mike G Remix) [Club Chemtrail]
Thomas White & Dear Lola (Mike G Remix) [Hyperboloid Records]
Schwarz – Open Up Yr Mind (Mike G Remix) [Thunder Zone]
Trap Door – Other Room (Mike G Remix) [B.YRSLF DIVISION]
CRW – I Need Love (Mike G & Nikes Remix) [Long Clothing]
Blackjack EP [Car Crash Set]
PERFORMED ALONGSIDE:
DJ Rashad, DJ Spinn, DJ Earl, Total Freedom, Rabit, P. Morris, Two Fresh, Druid Cloak, Doctor Jeep, Sango, Great Dane, Colta, Matrixxman, Deniro Farrar, Petey Clicks, Ben Aqua, Dreams, Pilo, Korma, Lil Texas, CZ, + more
PRESS:
http://www.factmag.com/2014/10/16/listen-to-mike-gs-club-slaying-blackjack-ep-featuring-remixes-by-rabit-spf666-and-more/