Represented in North and South America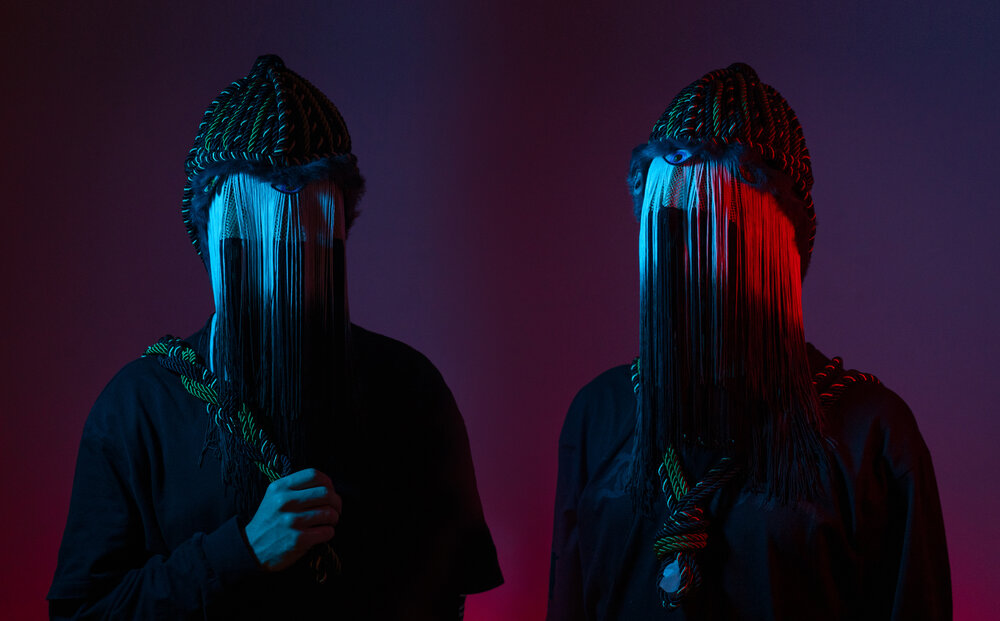 Dengue Dengue Dengue! are an audio-visual duo from Lima, Peru. Behind the beautifully crafted handmade masks they wear in photos and in performance are producers, DJs, and graphic designers Felipe Salmon and Rafael Pereira. They explore and utilize rhythms from Latin, African, and Anglo culture, re-creating them in electronic form by mixing old and new, and analog and digital, resulting in a unique, instantly identifiable sound accented by their striking hand-crafted visuals. Their musical explorations range from psychedelic cumbia to dub, from salsa to footwork, from tribal to techno; their sound and visual palette continue to evolve in concert and on recordings, adding more color, flavor, and texture to their heady and provocative mix.
DDD were born in mid-2010 and immediately made themselves well known in Lima thanks to their impeccable audio-visual show, remixing and mashing up their own tracks with old cumbias, and modifying cumbia classics into electronic versions, always accompanied by their singular visuals and ever-present masks.
In early 2011 the duo began to issue their first original productions on internet music and culture blogs in Latin America, Europe, and the U.S. Almost instantly acclaimed, their recordings started being played in clubs across the globe. They were invited to perform live at festivals in Peru and, along with Peru's label, started producing the TOMA! Sessions, helping to consolidate the growing and vibrant tropical bass movement in Lima, inviting various transcultural musicians and DJs to disseminate sounds and ideas.
In 2012 they released their debut album, La Alianza Profana (The Unholy Alliance), and the video for the single "Simiolo" on . The album charted almost immediately at home, and shows throughout the country were instant sellouts. The album caught the attention of Berlin's label, which re-released the album the following year in Europe, Asia, and Australia. Later that year, they played the NOVA Art Festival in São Paulo, Brazil and the Ibero-American Design Biennial in Madrid, Spain. DDD played a very successful Mexican tour, and in June undertook a two-month European tour, playing major festivals and clubs in Berlin, Vienna, Prague, Madrid, Barcelona, Paris, and Stockholm. That July, released the Simiolo Remixes EP, and issued the track "Lokumba" on their Upper Cuts series of releases.
That single prompted the band to sign to in 2014, and they released the EP Serpiente Dorada to mark the occasion. They lectured at the Red Bull Music Academy in Tokyo and released the track "Pineal" for the Academy's now world-renowned project 20 Before 15. They also revealed additional talents in remixing tracks by , Symbiz Sound, , and King Doudou. They embarked on three European tours (46 shows), playing sold-out gigs at the Dour, Roskilde, and Paleo festivals, as well as a noteworthy set at the SONAR Festival in Barcelona. They also played Cuba, Japan, Argentina, Chile, China, Brazil, Jamaica, Panama, Costa Rica, and Colombia that year.
In 2014 they were commissioned by the legendary label to remix tracks for a special 50-year anniversary compilation. The following year, DDD also released a new track for a / label project, a compilation of tracks inspired by birdsong. It was also a year of intense touring: Latin America from January to March, Europe in June, the U.S. in August and October, and a second European tour in December.
Siete Raíces (Seven Roots), DDD's sophomore album, was released by in June of 2016, accompanied by a self-titled video directed by Mikael Stornfelt (who also directed the "Simiolo" and "Chichón" videos). DDD supported its release with a 60-plus-date tour of Europe. Universally acclaimed by the press, the album was mined for everything from samples and remixes by producers to standard dancefloor fare by club DJs all over the world. In February of 2018, the duo issued Son de los Diablos, the first of three EPs projected for that year. A full-length, Zenit and Nadar, arrived in 2019.
The duo created their recording alter ego DNGDNGDNG in early 2020. Deeply influenced by the insurgent bass music subculture in the U.K, Salmon and Pereira offered a nuanced take on it by grafting exploratory Afro-Peruvian/Afro-Colombian polyrhythms, interlocking, time signatures, and (sometimes extremely) variant tempos. Their debut EP, Continentes Perdidos (Lost Continents), appeared in July from Portugal's Enfuchada label and was distributed globally through On the Corner. ~ Thom Jurek, Rovi
RELEASES:
2020 – Fiebre [NAAFI]
2019 – Zenet & Nadir [Enchufada]
2016 – Siete Raíces [Enchufada]
2012 – La Alianza Profana [Auxiliar]