Represented Worldwide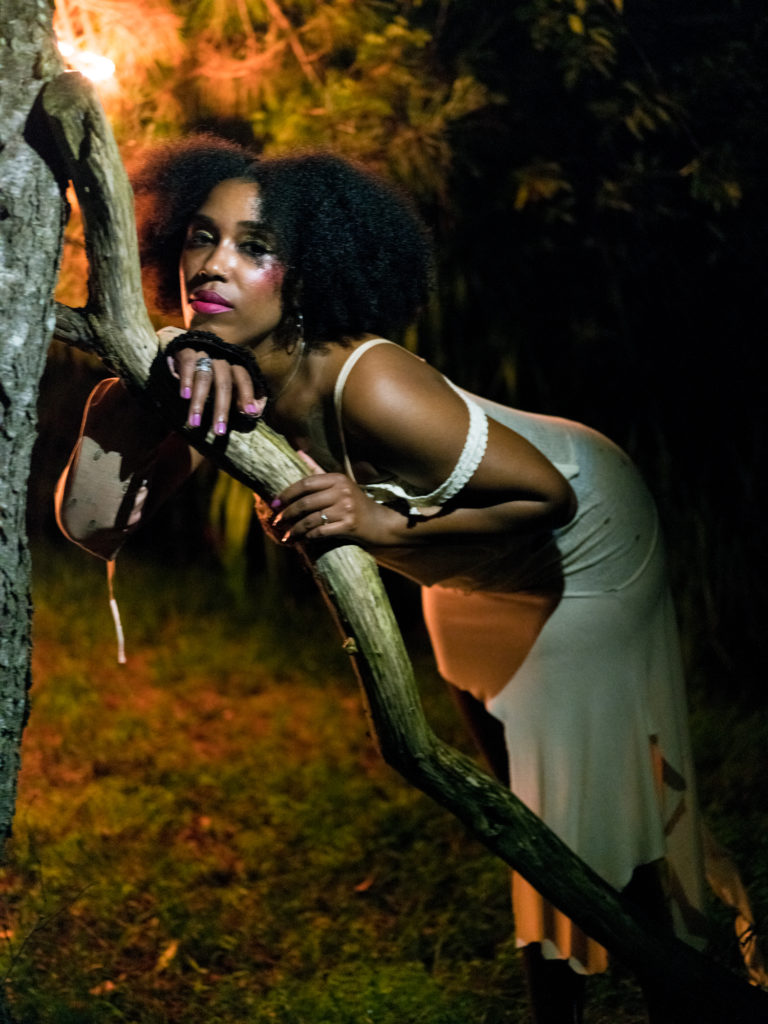 Photo cred : Elle Perez
MHYSA is a Queer Black Diva and underground popstar for the cyber resistance from Prince George's County, Maryland. Her debut album, fantasii, was released through Halcyon Veil on July 21, 2017, to glowing reception including many major year end lists. A live audio-visual experience touring Europe and North Americas has since followed. Highlight festival appearances include Corridor in Seattle, NRML in Mexico City, Borealis in Bergen, Rewire in The Hague, Counterflows in Glasgow, and Donau in Krems.
Of fantasii, MHYSA says: "This debut album is an epic poem, like a reverse Dante's Inferno, where I take the listener higher, upward through my hopes, dreams, inspirations, and desires. It represents my love for Black women and femmes, as the stories are all told from our perspectives."
Her debut EP, Hivemind, was released in February of 2016. In addition to her own productions, MHYSA's experimental approach to dance music and RnB shines through in her highly sought-after THOT FANTASY mix series. THOT FANTASY mixes have been commissioned for luminary platforms like DIS Magazine and GHE20G0TH1K, highlighting MHYSA's deep connections to the queer art, music and fashion scene of NY.
In 2020 MHYSA will release her next album on Hyperdub Records.
RELEASES:
2020 – NEVAEH [Hyperdub]
2017 – fantasii [Halcyon Veil]
2016 – embaci – FREAK IN ME (PROD. MHYSA) [NON]
2016 – HIVEMIND EP [NON]
2016 – Power Cuts feat. Chino Amobi [NON]
2015 – I Have To Say No So Much Right Now
PERFORMED ALONGSIDE:
LAUREL HALO, GAIKA, JAMES FERRARRO, YVES TUMOR, BIL KOULIGAS, ROZAY LABEIJA, CHINO AMOBI, LSDXOXO, BLAQSTARR, SHYBOI, ASE MANUAL
PRESS:
Tiny Mix Tapes Announces "NEVAEH" On Hyperdub
Vulture: Are Artist's Bands still an 'F You' to the Art World?
Feature in The Wire magazine
Interview with The Quietus
Cultured Magazine feature by Sable Elyse Smith
Boomkat #7 Release Of The Year 2017
Pitchfork #10 Experimental Album Of 2017
The Wire #20 Album Of The Year 2017
FACT Mag #24 Album Of The Year 2017
Tiny Mix Tapes #10 Release Of The Year 2017
The Quietus #89 Album Of The Year 2017
Tiny Mix Tapes Announces Fantasii Vinyl Release
Boomkat reviews "fantasii"
The Guardian's 2017 Albums You May Have Missed
Art In America Magazine Feature
OUT Magazine Feature
Pitchfork reviews "fantasii"
"Music you may have missed this year" on Dazed
"fantasii" premieres on Afropunk
The Quietus Albums of the Month
Thunder Penguin premieres "bb"
Mixmag premieres debut album "fantasii"
Tobago Tracks interview
Topical Cream Feature
Mixmag Essential Listening
The FADER Premieres "bb"
The FADER Premieres "Strobe"
Resident Advisor Mix Of The Day
The FADER Premieres "You Not About That Lyfe"
Paper Mag Premieres "Freak In Me" With embaci