Represented Worldwide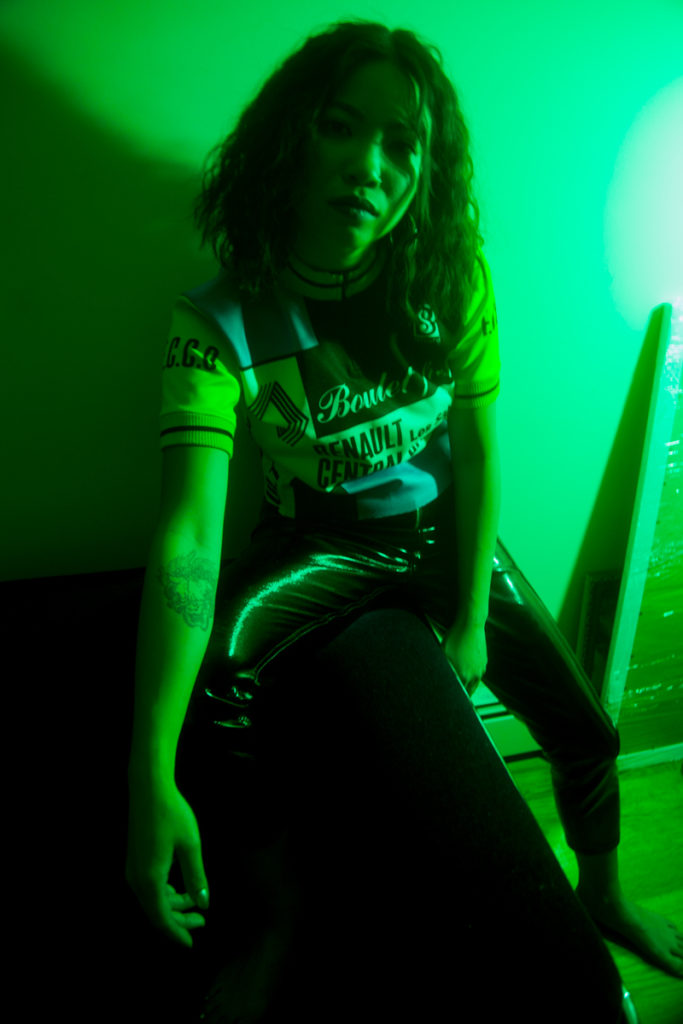 Photo: Jayne Lies
In the past few years, American artist Dis Fig has become one of the key artists to emerge out of the experimental club world.
A Berlin via New York transplant, Dis Fig's music earnestly reflects her past and present. A member of NYC label and collective PTP fka Purple Tape Pedigree, whose mold-melting output is woven with the same thread as her own, her sound touches on a shifting landscape of noise and experimental club genres and bottles moody and darkly powerful selections, juxtaposed with an eerie topping of rap and unexpected acapellas. Sweet lullabies and anthemic lyrics collide headfirst with unsettling beats and idiosyncratic musical backdrops, welding noir and twisted affect with frenetic percussion and ambient contemplation.
Appearing twice on the underground's most potent platform Boiler Room, Dis Fig's mixes have also appeared on the likes of Fact Mag, The Astral Plane, Discwoman, NTS, and Rinse FM, while her productions have been picked up by Fact, The Fader, Mixmag, Groove, and Resident Advisor.
Her touring schedule is increasingly heavy and has taken her around the world, where she has shared stages with Aisha Devi, NAAFI, J.G Biberkopf, Kode9, and Venetian Snares. Standout performances include Mutek Festival, CTM Festival, Graz' Steirischer Herbst Festival, Switzerland's Norient Musikfilm Festival, Beijing's Wetware Festival, headlining a 7-city North American Tour, as well as opening 'Säule', the new experimental focused floor of Berlin's most iconic club, Berghain.
On its third year, her Berlin Community Radio show Call Dibs has become a landmark in all things noise, experimental, and electronic, showcasing the music of local and international guests, which have included Chino Amobi, Ziúr, Air Max '97, Giant Swan, Celestial Trax, and many more.
PERFORMED ALONGSIDE:
Yves Tumor, Kode9, Dreamcrusher, Venetian Snares, J.G. Biberkopf, Aisha Devi, Rabit, DJ Earl, Martyn, Bill Kouligas, Celestial Trax, Ziúr, NAAFI, Amnesia Scanner, Wife, Lotic, Kablam
PRESS:
Pitchfork's Best 7 DJ Mixes of May 2018
FACT Mix 2018
Groove Magazin premiers Dis Fig's remix of Rui Ho "Albafica"
AQNB reviews 'Excerpt From An Atypical Brain Damage'
FACT Rated Feature 2018
Dis Fig featured in Mixmag's '30 Artists Under 30,000 plays'
FACT Magazine's Best Club Tracks of 2017
Avalon Emerson Plays Dis Fig
Berghain Books Dis Fig To Open New Room Saüle
Mix + Feature for The Astral Plane
DISCWOMAN Mix + Interview
DISCWOMAN Mix Featured In Fact Mag
Danny Brown x Emptyset Bootleg Featured In Fader
Danny Brown x Emptyset Bootleg Featured In Fact Mag "For Club Use Only"
"Unconfined" Bootleg Featured In Best New Club Tracks For Fact Mag